eRDM - Dynamic Railway Diagnostic System
ADVANTAGES
eRTM Wireless Rail Temperature Measurement System increases traffic safety. In addition, because it increases energy efficiency, it lowers operational costs as well.
FEATURES
Thermistor-based measurement of inner rail temperature
Automatic self-diagnostics and continuous remote maintenance function
Embedded electronics in each measurement module for noise-free, high-accuracy measurements
Wireless communication between on-site system elements - cost-effective installation
Secure data transmission via GSM/GPRS/HSPA/LTE or DSL/Fiber
Customized software integration into railway operator IT system
Low power requirements. Battery-operated sensors, system Gateway powered from 230V.
Battery-powered UPS for the on-site gateway unit for enhanced availability
Cost-effective installation on existing rail track types without the need for traffic limitation, special understructure, or severe alterations in the rails.
Available also as Service on BOO basis. Driver presses call button
SYSTEM DESIGN
The eRTM system is a wireless, battery-powered sensor network for real-time monitoring of rail temperature, and thus, rail stress distribution. Recordings are based on the measurements of thermistors mounted to the web of the rail. By applying mesh technology, repeaters allow the deployment of a wireless network covering large rail track distances. Rail temperature is measured, and data is sent periodically to the gateway unit.
The gateway module performs local data processing and logging, and transmits the results to the central diagnostic server and data center via broadband communication network. The gateway unit can be accessed via local Ethernet or WiFi terminals by service maintenance personnel.
Multiple wayside eRTM systems can be integrated into a redundant high availability diagnostic server solution. The server performs system wide data processing and evaluation, trend analysis, prediction, data storage and sends the alarm and warning signals to configured operational clients. All system functions are available and visualized through the central system, which can be accessed by various web browser applications.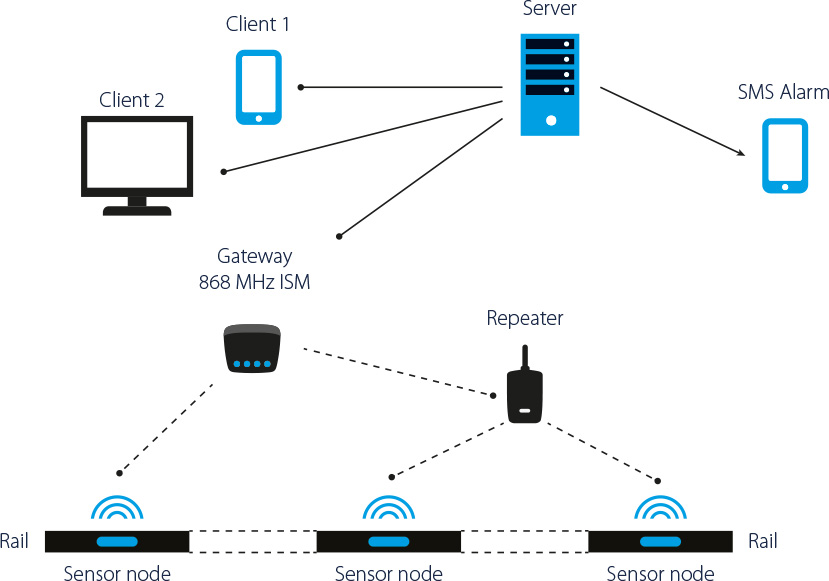 SELF- & REMOTE-DIAGNOSTICS
The status and the availability of all system components - including the batteries - are monitored continuously, and an alert is sent to the Operator automatically in case of any problem with the operation of the measurement system, or when the batteries are close to depletion and need to be replaced.
SERVICES
Candid offers highly customized turn-key software development services for integrating the eRTM system central diagnostic server into the IT system of the railway operator for integrated monitoring and alarm functionality.
PARAMETERS
Measurement accuracy: ±1 °C
Temperature resolution: ± 0.5°C
Temperature measurement range: -40 °C … +125°C
Sensor time constant: < 1s
Rail temperature: -40 °C … +75°C
Maximum number of measurement points: 256
Measurement frequency range: 10 min. – 12 hrs.
Repeater-sensor distance: max. 100 m
Repeater-repeater distance: max. 1000 m
On-site communication (sensor-repeater-gateway): 868 MHz ISM
Gateway off-site communication: GSM/GPRS/HSPA/LTE or DSL/Fiber
Sensor battery life: 3 years (1 hour measurement cycle)
Electric supply (of Gateway): 230 (190-250) V
Electric supply frequency (of Gateway): 50/75 Hz
Electric power consumption (of Gateway): max. 50 VA
Ambient operational temperature: -40°C…+85°C
Module environmental protection: IP67
Minimal lifetime: 10 years
MTBF: 10.000 hrs.
Rail type (UIC): 48, 49, 54, 60
Railroad sleeper distance: 580-650 mm
Relative humidity of ambient air: 20 – 95%
Internal accumulator capacity (of Gateway): 12Ah
Operating time in case of power failure: 20 min
FUNCTIONS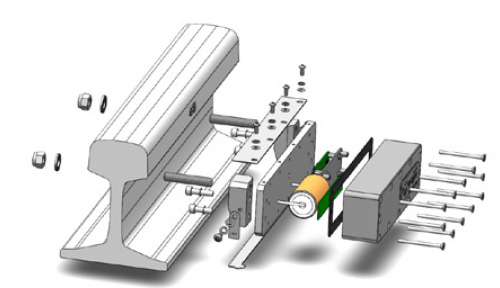 Wireless Rail-Temperature Measurement system with:
measurement accuracy of ±1°C
thermistor response time of < 1s
battery duration of > 3 years
Along with monitoring, prediction and alarm functions.
All warning and alarm threshold limit values can be set by the Operator.
Benefits
INCREASED SAFETY: Derailment prevention by detecting, predicting, and alarming on potential rail-buckling conditions in summer-time operations.
OPERATING COST REDUCTION: Preservation and lifetime extension of both the infrastructure and the rolling stocks with derailment prevention.
Energy savings by measurement controlled railway-switch heating in winter-time operations.
BUSINESS EFFICIENCY AND PROFITABILITY: Effective traffic management with optimized duration, localization and extent of speed limitations, based on real-time rail track temperature conditions and predictions.
Effective maintenance planning by predicting rail defects and failures related to temperature variations, and by scheduling stress-free periods for rail track maintenance.
ENVIRONMENTAL PROTECTION: CO2 reduction by energy savings.